An official result declared by the Ghana's Electoral Commission which showed the incumbent President Nana Akufo-Addo as the winner, has been rejected, a move that has started to heat up the polity and caused tension in the West Africa nation.
Ghana Police also confirned that five people were killed in election-related violence.
The ex-President John Mahama's National Democratic Congress party has been talking tough as it rejected the results.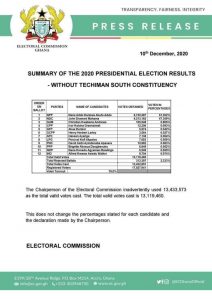 The party stated this at a press conference where it also described the result as terribly flawed.
A party chieftain, Haruna Iddrisu, described as incoming majority leader in a video obtained by Platforms  Africa, said during the conference; "We also want to serve notice that blantant efforts to even be denied head of parliament majority will be fiercely resisted."
He said; "After due consultation and analysis of the election result announced by the Chairperson of the electoral commission, we have come to only one irresistible conclusion that it is a flawed, discredited election and therefore, we reject without any reservation the result of the Presidential election as announced by her.
"We in our party beared this demicracy that has lasted for over 25 years and we hold Ghanaian a moral duty to preserve our democartic ethos and values."
He also alleged the what he called the "force and military" excessive behaviour.
There is a replay of what happened in 2012 where then candidate Akufo-Addo rejected election results that President Mahama won.
This time it is President Mahama who is rejecting results.
This is the third time the two are meeting in a Presidential election. 2012, 2016 where President Mahama conceded defeat and 2020.