Energy Policy Analyst and award-winning journalist, Adeola Yusuf, has declared that the trust deficit in Nigeria petroleum products' supply chain is one of the major factors responsible for fuel crisis that has persistently been rocking the country.
Yusuf, a Laureate of several local and international awards on oil and gas reporting, said this while featuring as an analyst on the Breakfast Show, a flagship Programme on Television Continental (TVC) DStv Channel 418 and GOtv Channel 45.
Nigeria, biggest crude oil exporter in sub-saharan Africa, depends largely on importation of the petroleum products due largely to inefficiency of its refineries.
According to Yusuf, who doubles as the Admin of Platforms Africa as well as the Energy Editor of New Telegraph, the gains that the country could have made through what he called the vicissitudes of crude oil price at the International market almost always fizzled out by decades of trust deficit in the system.
Calling attention to the efforts made by those in government particularly the Group Managing Director of the Nigerian National Petroleum Corporation (NNPC), Mallam Mele Kyari, in weighing down the burden lack of trust through unprecedentedly transparent and accountable approach to NNPC's operation, the 2019 and 2017 winner of Nigerian Media Merit Award (NMMA) Energy Reporter of The Year said that the deficit of trust in the system has become a major Achilles Heel for those efforts.
"This trust deficit became so evident penultimate week when the Petroleum Products Pricing Regulatory Agency (PPPRA) released its guiding petroleum products pricing template which is expected to be advisory.
"A few journalists who reported that, based on trust deficit over the years and other factors, went to town with reports that the government has increased fuel price. They have seen the government do this overtime after the release of templates by PPPRA.
"These reports ignited panic buying fears in the minds of Nigerians, who, a result of trust deficit, began to queue up at filling stations.
"The marketers too, based on lack of trust for government and customers that surprising queued up after driving pass the stations on occasions, started to shut their gates against motorists and these created a fuel crisis," he said.
He urged the government to, while making frantic efforts at correcting many issues affecting the fuel supply market, work assiduously too to address the issue of trust deficit in the entire value chain.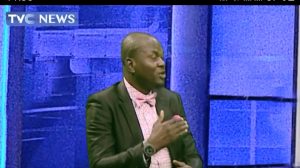 The programme was anchored by one of the Nigeria's frontline broadcast business journalist, David Alabi, and here, below, is the link to the video.