Here is the tweet before it was deleted and reason the microblogging site may suspend Buhari's account
Twitter, an American microblogging and social networking service, has deleted Nigeria's President, Muhammadu Buhari's tweet.
Platforms Africa gathered from Twitter on Wednesday that it took down Nigeria's President tweet for violating its policy.
READ ALSO: Buhari's absence at Army Chief, Others' burial sets Twitter on fire
Young Nigerians set Twitter on fire over Bill, Melinda Gates' Divorce
Twitter Office in Ghana not a loss for South Africa, Kenya. Why Nigeria?
Buhari took to his official Twitter handle on June 1 to lament over the insecurity and destruction of national infrastructure and threatened to deal with perpetrators of the menace.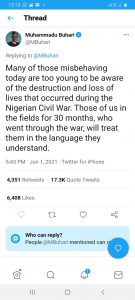 "Many of those misbehaving today are too young to be aware of the destruction and loss of lives that occurred during the Nigerian Civil War. Those of us in the fields for 30 months, who went through the war, will treat them in the language they understand," he tweeted.
His tweet, however, sparked reactions as hundreds took to Twitter to complain of the tone of the tweet, which they interpreted as genocidal, inciting violence and a second civil war.
Platforms Africa also gathered that his account may be locked out or suspended if the offensive tweets persists.
We recall that on January 8, 2021, Twitter suspended the account of the former United States (US) president, Donald Trump for incitement of violence and violation of its rules.