Nigerian Popular Prophet T.B. Joshua Dies at 57
According to family sources, Temitope Balogun Joshua, a prominent Nigerian preacher and televangelist, has died.
READ ALSO: Use Twitter, Go to Jail, Nigeria tells Violators of Ban
Meet Yemisi Bamgbose, Veteran Broadcaster who emerged BON Exec. Secretary
Speaker ejects Female Lawmaker from Parliament over 'too tight' Trousers
Platforms Africa gathered that Mr Joshua, the founder of The Synagogue, Church Of All Nations (SCOAN), died on Saturday evening in Lagos just after wrapping up a performance at his church.
Family sources who did not want to be named because an official statement was still being prepared, confirmed this according to other reports including BBC.
He was 57 years old at the time.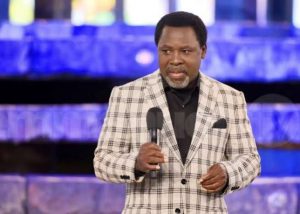 The cause of death was not immediately given to the public, but family sources stated his remains had been deposited at the mortuary and that an autopsy would be carried out as soon as possible.
Mr Joshua ruled as a fiery television preacher for decades, attracting a vast number of Christians from all around the world to his platform. Mr Joshua's SCOAN runs Emmanuel TV, one of Nigeria's largest Christian broadcast stations, which is available globally via digital and terrestrial switching.
In 2014, his church was the subject of a multi-national investigation after a piece of his Lagos headquarters collapsed, killing scores of people and injuring many more.
Mr Joshua vehemently denied any wrongdoing, and a trial over the incident was still ongoing at the time of his death.