Nigerian Courts are to reopen after being shutdown for 64 days as Judiciary workers agreed to end their 8 week strike, which crippled legal proceedings across the country.
Platforms Africa reports that this follows an agreement reached with the Nigerian Governor's Forum (NGF) and the Judiciary Staff Union of Nigeria (JUSUN).
READ ALSO: BREAKING: Bandits kidnap Nigerian Judge Inside Court
JUST IN: Hoodlums Set Nigerian Court Ablaze In latest Assault on Judiciary
Why we shut Supreme Court, Others nationwide – Nigerian Judiciary workers
This move is to enable state governors to comply with agreements reached on direct transfer of the workers' funds to court heads as against the previous practice.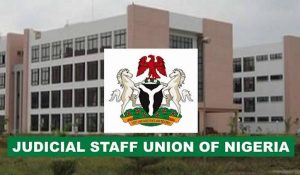 The workers took the decision during its National Executive Council (NEC) meeting after Chief Justice of Nigeria (CJN), Justice Ibrahim Muhammad, and some other court head, prevailed on the JUSUN leaders to end the strike that had crippled legal proceedings across the country.