Nigerian Police officers on Saturday morning fired tear gas at protesters that gathered at the Gani Fawehinmi Park in Lagos, Nigeria's commercial capital, and Abuja, administrative capital of the country.
The two parks are points of convergence for the June 12 Democracy Day protest in the country.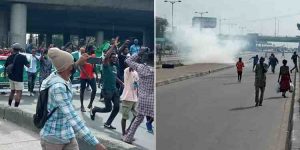 Platforms Africa reports that the protesters had converged to demand for an end to bad governance and others while some of them were agitating for an end to the government of President Muhammadu Buhari before tear gas was fired at them by the Police.
Details later