Heart-rending details of how the Tinsel Star had a ghastly motor accident, bedridden since 2016, begged for hospital bills, lost the battle to terrible pains, chronic traumatic brain injury
Popular Nigerian actor and Tinsel superstar, Victor Olaotan, also known as Big Daddy is dead.
Platforms Africa reports that his wife, Julia Olatan, confirmed the death of his Husband.
The family of the Olaotan had cried out for help to support the actor who was battling with an injury arising from an accident in 2016.
The actor, according to a report by Platforms Africa, died on Thursday night in Lagos, Nigeria's commercial capital.
READ ALSO: Another Nollywood veteran actor dies weeks after begging for Hospital bill
How Nollywood actor Ernest Asuzu slumped, died in wife's presence + PHOTOS 
How Two Nollywood Actors died within 5 days
Sad Tale of the Accident and Battle for Life
The popular Nollywood actor, Victor Olaotan, battled for his life in a Turkish hospital, for over five years after he was involved in a ghastly accident.
He, at some points, required $250,000, about N91m, to pay for his medical expenses.
The hospital also placed his medical treatments on hold until the money was paid, his wife, Julia, revealed this in a recent interview.
Olaotan, 67, who is best known for his role as Fred Ade-Williams in the long-running television drama 'Tinsel' was driving to a movie set when the accident took place around Apple Junction, in Festac, Lagos.
Some years ago, it was reported that the actor required financial assistance to receive medical treatment outside Nigeria in a bid to avert the amputation of his legs.
He was at home in a vegetative state for about two years because he suffered a traumatic brain injury before respite came
.
Shortly after he went public with his illness, his colleague, Richard Mofe-Damijo, announced that billionaire Femi Otedola had agreed to settle his medical bills.
Otedola's Milk of Kindness
His wife said the hospital sent a bill of 96,000 Euros, about N39m, and that included having to airlift him out of the country. Mr Otedola transferred the money directly to the hospital in Turkey.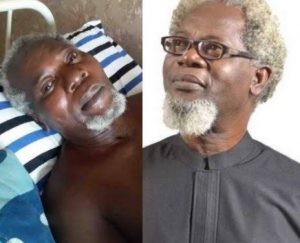 After the money Mr Otedola paid the hospital expired, his family began paying $7,500, about N2.7m every month.
The amount covers physiotherapy and other necessary treatments. If everything goes as planned, he ought to be home by March 2020.
In a recent interview, his wife said, "Since August, I haven't paid any money. Right now, the hospital has stopped treatment and providing any kind of care for him. For his treatment to be continued, I have to pay a minimum of about $250,000 N91m".
A beg for Money
Some cast members of Tinsel have also renewed calls for financial assistance for the actor in a video that has been shared on social media.
In the video, Ireti Doyle, Ike Okechukwu, Funlola Aofiyebi-Raimi, and others could be seen pleading with fans to help to raise the required funds to complete Olaotan's treatment.
They said he currently requires N91m to complete his medical treatment abroad.
The actor, before his death, looked pale and unrecognisable in the video, according to Platforms Africa.