A 17-year old boy, Rokeeb Ogunola, has vented his anger on a staff of Ikeja Elecric company, Shehu Dogbe, by stabbing him with a knife for allegedly disconnecting their light over accumulated estimated electricity bill.
Platforms Africa reports that the incident happened at Tunde Ilufoye Street Fatoki, off Isuti Road, Egan, Lagos, where the boy lives with his parents.
According to the residents, the boy was angry and frustrated about the manner the staff of Ikeja Electric usually come to their house to disconnect light over the highly estimated bills.
READ ALSO: Customer stabs Ikeja Electric Staff on duty, faces prosecution
50,000 Nigeria's IBEDC customers lament 10-year crazy billing, load shedding
Nigerian Teenager, Jonathan Adewale, Breaks ICAN Record, Becomes Chartered In SS3
Nigerians To Pay More For Electricity As Regulator Mulls New tariff July 1
It was gathered that the bill has so much accumulated to the extent that it will be difficult to clear it before another one comes and the Ikeja Electric staff will move again from house to houses in the area to disconnect over estimated bill.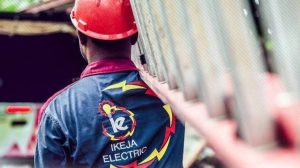 On fateful day, the boy saw the Ikeja Electric staff who wanted to disconnect their light and he reportedly went into their house, brought out UTC knife, attacked and gave him a deep cut on his palm.
The victim was said to have bled profusely and was rushed to an undisclosed hospital, where he was treated before the matter was reported to the Police at Igando Division over the boy's conduct.
The Police then arrested the suspect, Ogunola and detained at the station for interrogation over his conduct on the Ikeja Electric staff who was on official duty.
After thorough interrogation, he was found culpable and the Police subsequently charged him before the Ejigbo Magistrates Court for assault on the victim.
When he was arraigned, he pleaded not guilty.
The prosecutor, Inspector Simeon Njue, then asked the Court to give a date for hearing since he pleaded not guilty before the Court to enable the Police to prove that he actually committed the alleged offence.
The Presiding Magistrate, A.K.Dosumu, Platforms Africa reports, granted him bail in the sum of N200,000 with two sureties in like sum.
He was remanded in children's correctional center pending when he will perfect his bail conditions while the matter was adjourned till June 2022 for mention.