Full names of 14 directors in race to be named substantive Accountant General of the Federation
The Nigerian government on Wednesday, shortlisted 14 directors directors on Grade Level 17 in the federal civil service for consideration as the process for the appointment of a new Accountant General of the Federation begins.
This, coming after the appointment and removal of the acting Accountant General, Chukwuyere Anamekwe, confirmed an exclusive story by Platforms Africa headlined Buhari removes acting Accountant General 28 days after appointment.
READ ALSO EXCLUSIVE: Buhari Declines Ministerial Consent For ExxonMobil $1.6bn Assets' Sale To Seplat
EXCLUSIVE: MDs Fired as Nigeria Takes Over Benin, Kano, Kaduna DisCos
EXCLUSIVE: Buhari Removes Ag Accountant-General 28 Days After Appointment
EXCLUSIVE: Buhari Appoints Kinsman, Yar'Adua's brother, REA's Board Chair
EXCLUSIVE: Why 371,800 Nigerian Police Officers' November Salary is Delayed
The plan to replace the sacked acting Accountant General was contained in a circular issued by Mariya Rufai, Director of Administration, Office of the Accountant General of the Federation, which was received by the Head of the Civil Service of the Federation, Dr. Folasade Yemi-Esan.
On the list for consideration are Chizea Onochie Peter, Jafiya Shehu Muhammad Murtala Saleh, and Lydia all from the Office of the AGF.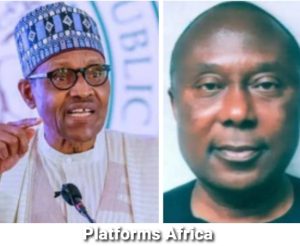 Others are Bakre Modupe Julianah (Police Affairs Ministry), Ibrahim Saadiya Jibo (National Boundary Commission), Omachi Raymond Omenka (Ministry of Interior), Danladi Comfort Zakowi (NSCDC) and Abah George Fidelis (Nigeria Immigration).
Also shortlisted are Mohammed Aminu YarAbba (Federal Fire Service), Samuel Waziri (Ministry of Agric and Rural Development), Mahmud Adam Kambari (North East Development Commission), Mohammed Magaji Doho (Federal Ministry of Education), Mufutahu Bukolah (Federal Ministry of Transportation), and Yusuf Abdullahi Musa (Ministry of Information and Culture).
Chukwuyere Anamekwe who had been in acting capacity was recently removed from office and replaced with a former Director of Treasury Single Account, TSA, Okolieaboh Ezeoke Sylvis.
In a report published on 24th of June, 2022, Platforms Africa gathered exclusively that Anamekwe Nwabuoku, who was appointed through a letter dated May 20, 2022 and signed by Aliyu Ahmed, the Permanent Secretary in the Federal Ministry of Finance, Budget and National Planning, has been removed 28 days after his appointment.
He has been redeployed to Federal Civil Service Commission as Director of Finance without any official reason, Platforms  Africa can report.
Seat of Accountant-General Of Federation Declares Vacant
Platforms Africa reports that the processes to fill the vacant seat of Accountant-General if the federation commenced via a circular referenced HCSF/PS/CMO/193/03 and entitled "Commencement of the process of appointment of a substantive Accountant general of the federation" by the Head of the Civil Service of the federation, Folasade Yemi-Esan.
She requested eligible applicants to submit their applications on or before July 6, 2022.
The call for suitably qualified applicants to fill the role became necessary after Idris Ahmed, erstwhile Accountant General of the federation was arrested by the Economic and Financial Crimes Commission (EFCC) over alleged N80 billion fraud.