American business magnate, Bill Gates' ex-wife, Melinda French Gates has been given another chance at love.
The former computer scientist and general manager at Microsoft found love in the arms of John Du Pre, a former TV correspondent for Fox News Channel in the late 90s and early 2000s.
READ ALSO Nigerian Governor, S'African Female Speaker In Sex Scandal, Video Released
Davido Postpones A.W.A.Y Festival By One Year
Twitter Chaos Deepens As Key Executives Quit
Mass Sack At Facebook As Zuckerberg Confirms Layoff Begins Wednesday
Adetutu Adedokun: Identity Of Lady Who Jumped Into Lagoon Revealed
According to reports, Melinda 58, and the former reporter, 63, have been dating for a couple of months.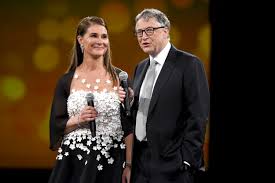 Though it's unclear how Melinda and Du Pre met TMZ reports they have also been spotted, along with other family members, at Pelican Hill, a 5-star hotel in Newport Beach, California.
The duo was also spotted at a Brooklyn Nets basketball game in April this year.
In October 2022 speaking at 'Fortune's Most Powerful Women Summit' in California, Melinda explained she took a Master Class on relationships as she prepared to date again.
She stated she'd been thinking more deeply about the kinds of relationships she aspires to have in her future, professionally and romantically.
For this, she said she took a few notes from famed psychotherapist and author Esther Perel.
According to her: "One of the things Perel talks about is power. I both have a relationship with my former husband at work, and hopefully eventually I'll have a relationship personally with somebody outside of work, but we have to think about power inside of a relationship and how do you share that and share that collaboratively."
In May, 2021, billionaire Bill Gates, said he and his wife Melinda would be splitting up after 27 years.
Gates broke the news via his verified Twitter handle @BillGates, stunning his 54.7million followers.