Scores of persons have been reportedly burnt to death in an accident involving a truck carrying diesel along Illesha-Akure at Igbelajewa Village in Osun State.
It was gathered that the truck driver lost control and spilled its content on the road which resulted in a fire outbreak.
The incident happened on Monday afternoon killing unknown number of persons.
No fewer than seven vehicles including an 18-seater commercial bus with passengers were reportedly gutted by the inferno.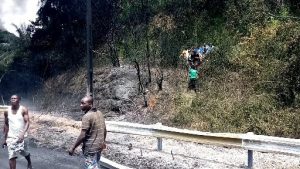 "A lot of the corpses of those who lost their lives in this unfortunate accident have been burnt beyond recognition. It is a horrible day for all the villagers. No calamity of this nature has ever befallen people in our presence. We have never experienced horrors like this in Igbelajewa (Village)," Sunday Odunlami, a villager told Platforms Africa