Hundreds of residents of Ogijo, a boundary town between Lagos and Ogun state, Southwest Nigeria, have staged a peaceful protest over poor state of roads across the town.
Describing the network of roads in the town as killer roads, the protesters led by President, Ogijo New Era Progressive Forum, Alhaja Abolore Owolewa also known as Alhaja Chicago, took to streets in Ogijo and environs to call on concerned authorities to come to their rescue.
Owolewa who doubled as President, Television and Radio Callers Association, pleaded for quick intervention of Ogun State and Lagos state government to help them fix the road, which they claimed have sent many to their early graves.
"Today, we staged a peaceful demonstration in ogijo and evirons," she said.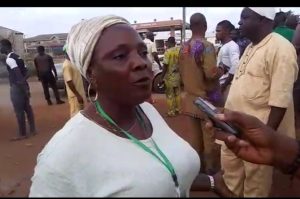 The protest, Owolewa continued, "started at Ologijo Palace and it was taken to office of Arab Contractor where we met with the Head of Admin who, in return, pleaded that the protest be staged in a peaceful manner.
"After this, hundreds of our people followed the admin officer matched back to the Palace where we all sought audience with our Kabiyesi, Olohlgijo. From there, we went to Ita Sanni."
The protesters carried placards with inscriptions like "The life of every road user matters," "we say no to abandon road project;" "Enough is enough;" and "All we are sating we want a good; safe and motorable road."
According to Omolewa, the people of Ogijo have been subjected to horrible way of living by the authorities.
"We do not have light, we do not have road, we do not have anything. Rains are here now, houses are already being submerged, a lot of home owners are abandoning their structures because no rioad for them to access their houses or their offices.
'All we are pleading for is for our roads to be fixed. We do not ask for too much, we do not want abandoned projects, enough if suffering, enough of shorter life spans, enough of untimely death," she declared.