Anger and panic were heightened in Lagos, Nigeria's commercial capital, and across the World as the casualty figures from a sporadic shooting that ensued at Lekki Tollgate, surged.
One of those who have been sharply angered by the killing of protesters is the United States former Presidential candidate under Democrats Party, Hillary Clinton. Mrs. Inton demanded in a Tweet that President  Muhammadu Buhari put an end to the killing of youths who have staged a peaceful protest againt Police brutality.
Lekki Tollgate is one of the major venues of EndSARS protest in Lagos. The Tollgate was later set on fire.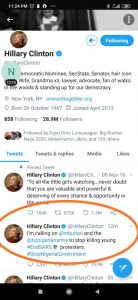 An earlier report showed that seven protesters were hit and killed by stray bullets but several videos from the scene, seen by Platforms Africa, which depicted gory sights of the incident showed that the number of casualty has continued to rise.
Scores of protesters fled the scene as sporadic gunshots were heard. Dozens of protesters were also injured in milieu.
As gathered, the gunshot led to pandemonium at the scene with several protesters running for cover to prevent been hit by stray bullets that were said to have been shot by the military officers.
The attack came minutes after the State Governor, Babajide Sanwo-Olu, adjusted the start of the curfew hour to afford residents trapped in traffic access their homes and avoid the breakdown of law and order in the state.
Meanwhole, Hilary Clinton, wife of former United State President, Bill Clinton on Tuesday night called on President Muhammadu Buhari and the Nigerian Army to halt extra-judicial killings of #EndSARS protesters.
She spoke on the heels of reported shooting of protesters at the Lekki Toll Gate by soldiers on Tuesday night.
Taking to her twitter page, the former Democratic Party presidential nominee urged President Buhari to immediately halt any further attacks on the protesters.
"I'm calling on @mbuhari and the @hqnigerianarmy to stop killing young #EndSARS protesters. #StopNigeriaGovernment," she tweeted.