Nigeria has recorded four fatalities with a total of 999 new cases of the deadly COVID-19, making the total of infected cases rise to 79,789, the number of deaths to hit 1,231.
This was announced by the Nigeria Centre for Disease Control (NCDC) in its daily update on Tuesday night.
According to the centre, the tests of 999 suspected cases came back positive.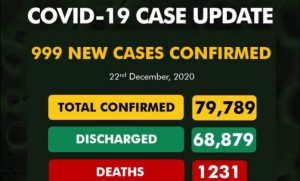 While 396 patients were discharged, 4 new fatalities were recorded.
The NCDC added that the discharges included 254 community recoveries in Lagos State managed in line with guidelines.
17 states and the Federal Capital Territory (FCT) recorded the new cases.
FCT recorded the highest new cases with 416, followed by Lagos with 324 cases.
Kaduna also recorded 68 new infections followed by Plateau State with 42 new cases.
Others are from Kwara (32), Kano (24), Gombe (14), Sokoto (12), Yobe (12), Akwa Ibom (11), Bayelsa (10), Rivers (7), Bauchi (7), Ogun (6), Oyo (5), Edo (4), Taraba (4), and Jigawa (1).
So far, a total of 68,879 patients have been discharged following their recovery from COVID-19.
However, a total of 1,231 patients have lost their lives to the disease.
There are now 9,679 active cases across the country.