A revered retired Judge and Elder Statesman in Nigeria, Justice Dr. Ahmed Lemu, on Thursday died exactly 23 months after his British-born wife, Bridget. Bridget who died on January 5, 2019 was before her death renamed Aisha.
The death of retired Grand Qadi of the Sharia Court of Appeal, Niger State, Justice (Dr) Lemu, was announces on Facebook in the early hours of Thursday, December 24, by one of his children, Hajiya Maryam Lemu.
Maryam quoted an official statement signed on behalf of the family by Ustadh Nurudeen Lemu, which is now been circulated across different social media platforms.
The statement reads, Inna lillahi wa inna liayhi raji'un. It is with sadness and reverence to Allah that we announce the passing away of our father, Dr. Justice Sheikh Ahmed Lemu OFR, in the early hours of this morning in Minna.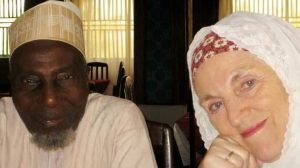 "Burial arrangements to be announced later," it added.
The sad news was coming barely two years after the death of his wife, a British-born Muslim author, Aisha Lemu, who died in January, 2019, aged 79.
Born in 1929, Justice Ahmed Lemu was Grand Qadi of the Sharia Court of Appeal, Minna Division, when it was founded in 1976.
The late Dr. Lemu together with his wife made a lot of contributions to Justice system and the education sector.
They, in addition, collectively contributed to Islamic scholarship in Nigeria.
The couple founded the Islamic Education Trust (IET), a charitable organisation based in the city of Minna, Niger State, Nigeria, established to promote the growth of quality education and ensuring that the perspectives of Islam are successfully combined with the modern school curriculum.