A Nigerian frontline journalist and Publisher of QED, Mr. Olumide Iyanda, is one of the first set of journalists who received the AstraZeneca vaccine jab in the country. He shared an independent practical experience about his feelings before and after taking the jab during the Platforms Africa e-Discourse. Excerpts;
What is your view about COVID-19 and its threat to human existence?
COVID an infectious disease that may make you fall sick. Or, as seen in some cases, lead to fatality. I know positive people who showed no symptoms. I also know people with mild to severe symptoms. And I also know some who died from complications linked to COVID. I, however, do not have a morbid fear of the disease. Just do the needful and hope for the best. I believe the world will overcome COVID.
Infodemic – Fear caused by fake news, propaganda and outright lies – is said to have tendencies to kill faster than the Pandemic. Do you agree with this? How can it (infodemic) be addressed?
I have always advocated that people get information from trusted/verifiable sources. That's my experience having practised journalism for two decades plus. One thing about fake news and propaganda is that some people have already made up their minds about what they want to believe and they hold on to that in spite of compelling contrary evidence.
This misinformation is already coming up about COVID-19 Vaccine. How did you cope with it, sir?
I get my information from sources I trust.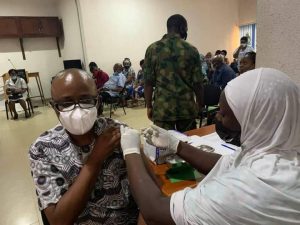 You are one of the first set of Nigerians (journalists) to be vaccinated. How did you feel few seconds before you were given the jab?
I was calm. I had already spoken with my doctor who received the vaccine some days before me. He assured me it was safe.
Can it be safe to say that the general experience expected after every individual vaccination of COVID-19 vaccine would be CALMNESS?
I wouldn't say that everybody experienced calmness. People's state of health and mind may affect how they feel before and after. Someone told me she had a slight but very brief pain in her left arm after getting the jab. Others told me there was no side effect.
What message do you have for people in Africa who still have fears about the Vaccine?
Talk to a trusted health practitioner. Preferably, someone who knows your medical history and has been vaccinated him/herself.
In Africa, there is a general belief that you must know someone in high places before anything is done. How did man-know-man help you in getting the jab on time, sirs?
I have been treated at one of the 88 centres designated for the vaccine in Lagos, so there was really no need for man-n-man. Besides, the were few people there who came for the vaccination.
Did you register online before you were administered the Vaccine and also I have noticed more foreigners at Health facilities waiting to get the jabs in Lagos. Why do you think this is so?
I registered online on the NPHCDA website but did not get confirmation or anything from them. So, I sent them a DM on Twitter. That was when I got the "expo" that I can actually walk into any of the 88 health centres in Lagos and get the vaccine without prior registration.
The current global fear on the side effects of AstraZeneca has further increased people's fear across the globe. More than four countries have suspended the vaccination. What is/are your advices in this regard?
Listen to your doctor first. The day I no longer trust my doctor, I will get another one.
I couldn't get any Centre here at VI without long queue. I'm concered that the long queues might is a red flag for spreading the virus. What do you think the government should do to address this?
You may try one of the centres on the mainland. Many people here still believe COVID is for "big men" and are not bothered about the vaccine.
Platforms Africa forum is an e-Community of intellectuals, opinion leaders and policy moulders against misinformation in Africa by creating and sustaining cycles of informed Africans through, among others, its weekly e-Discourse on WhatsApp