Her Tide. Her Title: What to know about Adichie and her traditional title, Odelụwa
Nigeria's award-winning writer, Chimamanda Adichie, has been conferred with a chieftaincy title in her hometown, Abba, Anambra State.
She was honoured with the title, Odelụwa (She who writes for the world) on Friday.
READ ALSO: Obateru Twins, Drs. Kennie, Taye, Bag Eruku Chieftaincy Titles
BREAKING: Former Pope, Benedict XVI, Is Dead
Pelé: Brazil Declares Three Days Of Mourning, Funeral To Be Held In Hometown Santos
Christmas: How Teenager Was Electrocuted At Recreational Park In Lagos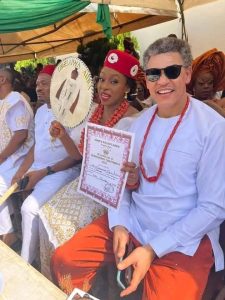 Born 15 September 1977, Adichie is a Nigerian writer whose works include novels, short stories and nonfiction.
She was described in The Times Literary Supplement as "the most prominent" of a "procession of critically acclaimed young anglophone authors [which] is succeeding in attracting a new generation of readers to African literature", particularly in her second home, the United States.