The wishes, Views and unfulfilled dreams of the ex Manager Upstream Gas Supply at the Nigerian National Petroleum Corporation + last interview
A former Commissioner for Energy and Mineral Resources in Lagos, Nigeria's commercial capital, Engineer Taofiq Tijani, is dead.
Tijani, who was also a former Manager UpStream Gas Supply at the Nigerian National Petroleum Corporation (NNPC) as well as a Senior Technical Assistant to the Minister of Petroleum Resources from 2009 to 2010. died in Lagos and his corpse has been scheduled for burial today, Saturday, March 13, 2021, according to Islamic rites.
A close associate of the deceased confirmed the development to Platforms Africa, stating that many people are not allowed to attend his burial because of COVID-19 protocols
"A link to a Zoom meeting has been prepared and provided for those who might want to watch his burial proceedings. As at now, only very close members of his family and associates are allowed," he said.
On Monday, July 27, 2011, the then Lagos State Governor, Mr Babatunde Fashola (SAN) at the Executive Council Chambers, Alausa presided over at the administration of oath of office and allegiance on Engineer Taofiq Tijani as the Commissioner for Energy and Mineral Resources.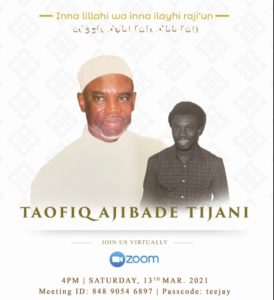 Mr Taofik Tijani who was earlier sworn in as a Special Adviser to the Governor on Mineral Resources before his elevation, is a member of the Nigeria Society of Engineers and the Society of Petroleum Engineers who has worked in several capacities including that of Manager Up Stream Gas Supply at the Nigerian National Petroleum Corporation and Senior Technical Assistant to the Minister of Petroleum Resources from 2009 to 2010.
His last interview as a Commissioner 
Here is his last interview as a Commissioner where he spoke about Lagos status as an oil producing state, Petroleum Industry Bill (PIB) among others;
How do Lagos State and the Ministry of Energy and Mineral Resources feel about the recent discovery of oil in the state by the Lekoil/Afren consortium?
We, at the Ministry have always been aware of the fact that offshore Lagos has the potential of becoming an oil producing region like the Niger Delta, if enough exploration and exploitation activities are undertaken. So it's not exactly news to us that the consortium struck oil, we are however excited at the potential prospects of this discovery.
From the current information at your disposal, do you feel that this discovery will yield commercial amounts of oil?
According to the reports we have received, the estimations from the Ogo 1 well located in OPL 310, offshore Lagos by the Afren/Lekoil Consortium has surpassed pre drill expectations at the end of on-going evaluations. Based on the well data, the partners estimate the P50 to P10 gross recoverable resources range to be significantly ahead of pre-drill expectations at say between 774 to 1,180 mmboe, which is commendable and commercially in order I think.
How does this discovery differ from that of the 1996 Aje field discovery in OML 113?
Unlike Aje in OML 113 which is predominantly a gas and condensate field, estimated at about 380 mmboe, the Ogo-1 well in OPL 310 contains significant light oil accumulation.
What are the economic and financial implications of this discovery for Lagos State?
The discovery of oil at the Ogo-1 well definitely gives us hope of a huge economic boost for the State with particular regard to the possibility of more investments as well as potential revenue accruable to the State. It will also serve as a boost for the nation's oil reserves as a whole.
Will Lagos demand for derivation like other oil producing states?
I believe that when the well is put on stream and production begins, then Lagos certainly will become an oil producing State and as such we will definitely attempt to seek derivation like other oil producing States are doing in the country.
We are still waiting for the passage of the Petroleum Industry Bill at the federal level, will there be any similar petroleum legislation passed at the state level in light of this new discovery?
Petroleum matters are strictly on the exclusive legislative list of the Federal Government. So no, I don't believe there are any plans of enacting any similar legislation in Lagos State. However, I can categorically tell you that the portions of that bill that affects State Governments in any way will be jealously guarded in the best interest of the citizens of Lagos State.
Speaking of petroleum legislations, an oil and gas bill was recently passed setting up Ibile Oil and Gas Corporation. What are this organization's functions and how will it interact with other players in the Nigerian oil and gas industry?
Ibile Oil and Gas Corporation is a special purpose vehicle that will represent the State's interests in relation to oil and gas matters. It will be granted the power to engage in all oil and gas upstream activities, including exploration, drilling and production, it will also have the capacity to invest in a company or consortium for the purpose of participating in oil and gas bid rounds and seeking marginal field allocations. It will also have the capacity to acquire old or new exploration and drilling prospects and prospecting abandoned wells anywhere in Nigeria or overseas. Furthermore, it will serve to optimize the benefits of the petroleum policies of the Federal Government. And finally it will be able to acquire gas volumes and other supplies for the State as may be considered appropriate.