Remember him? Chief Femi Fani-Kayode, a popular and controversial politician in Nigeria, who once reportedly called COVID-19 vaccine 'evil', has received the same vaccine.
The former minister of aviation in the Africa's most populous nation, announced on his verified Twitter handle, @realFFK, that he received the vaccine. It was not clear whether all of those who supported his initial argument about the vaccine will have the chance to be vaccinated like him.
Describing his newly found belief in COVID-19 vaccination as bowing to superior reasoning and sound logic, the Lawyer and popular Essayist added that one of the reasons he received the vaccine is "to set an example to others."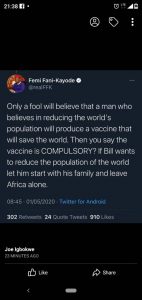 Fani-Kayode, who also believed in the conspiracy theory on 5G network, has once said that the vaccination was evil because it was an attempt to get everyone tracked and depopulate Africa.
In the latest twist, he said; "I bowed to sound logic and superior reasoning and took my COVID vaccine today."
"This is to thank my sister, the Distingusished Senator Grace Bent, who convinced me to take it and who emphasised that we must set an example to others.'