Price of Brent Crude has touched $70 per barrel Price, a development that has, according to Platforms Africa, surged optimism in the global market to the highest level in 2021
There was a slight pullback in oil prices following Wednesday's highs, but the rally is still very much on and bullish sentiment is palpable as summer driving season nears.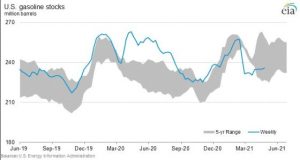 For more great energy content, make sure you subscribe to the Oilprice youtube channel for breaking news and analysis.
A report on Friday, May 7th, 2021, shows that Brent tested $70 per barrel on Wednesday but fell back on Thursday.
Oil "had a great run, but it got a little bit ahead of itself," Phil Streible, chief market strategist at Blue Line Futures LLC in Chicago, told Bloomberg.
"We've hit resistance and prices pulled back," but it's hard to see a summer demand boost "being derailed," he said. Oil is still set to close out the week with another gain.