Kwara Gov seeks justice for Blessing allegedly murdered few weeks before birthday as killers are still "yet-to-be-identified persons" days after crime
Kwara State Governor AbdulRahman AbdulRazaq has described as "shocking and utterly condemnable" the reported rape and murder of Miss Olajide Omowumi Blessing, a 300-level student of the University of Ilorin by some yet-to-be-identified persons.
"The development is heart-wrenching and absolutely unacceptable. Such antisocial and despicable behaviour will never be acceptable to all people of good conscience, and all of us will unite to fight this to a logical conclusion.
READ ALSO: How Covenant Varsity lecturer Lured, Raped student Inside office – Police
I rape grandmothers because I can't resist their jiggling 'bum bum' – serial rapist
How Nigerian Police Officer arrested, raped woman for "not wearing Facemask" + His IDENTITY
"I call on the security agencies to get to the root of this dastardly act with a view to bringing the mindless perpetrators to book. I similarly call on anyone with valuable information to volunteer same to the security agencies," the Governor said in a personal statement mourning the late Blessing.
"I sincerely commiserate with the parents of the deceased, her course/ housemates, and the university community on this sad incident, while praying the Almighty God to repose her soul. I join every person of good conscience to seek justice for Blessing so that such callous action and its perpetrators will never find a foothold in our society. I hereby send strong warnings that we will not tolerate indiscriminate violence against any person, much less the girl child.
"Enough is enough! The security agencies will get the perpetrators to pay heavily for this crime."
Her friends have also expressed sadness over her death.
One of them, Onaopemipo Christopher Owolabi, wrote on Facebook; "Olajide Blessing Omowumi
For the past three years, I always long to see you but I never knew today is a way of saying "goodbye my friend" and couldn't imagine the plan I had already to pay surprise visit at the end of this month which happen to be your born day but I was so surprised to hear the news of your demise.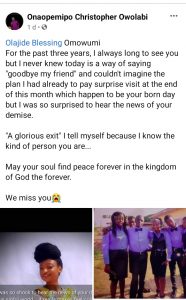 "A glorious exit" I tell myself because I know the kind of person you are… May your soul find peace forever in the kingdom of God the forever.
We miss you😭