His career, comment, courage, contributions, and controversy: How the renowned Qāriʾ – reciter of the Qur'an,  has led prayers at Islamic holiest Mosque for four decades
Today, Sha'ban 22, corresponding to March 14, 2023, marks 40 years that Sheikh Abdul Rahman Al Sudais has been leading at Masjid Al Haram (The Grand Mosque In Makkah).
Platforms Africa reports that his first Salat was Asr, on 22 Sha'ban, 1404, when he was only 22 years old – the youngest Imam recorded in the history of Masjid Al Haram.
Iman Sudais went on to become a world-renowned reciter and a familiar figure to all Muslims from all corners of the globe.
The Man Imaam Al-Sudais
Abd ar-Raḥman ibn ʻAbd al-ʻAziz as-Sudais), better known as Al-Sudais, is one of the nine imams of the Grand Mosque, Masjid al-Haram in Makkah, Saudi Arabia; the president of the General Presidency for the Affairs of the Two Holy Mosques; a renowned Qāriʾ (reciter of the Qur'an); he was the Dubai International Holy Qur'an Award's "Islamic Personality Of the Year" in 2005.
His Controversy
Following his 2002 speech, Al-Sudais has been described as an anti-Semite for publicly praying to God to 'terminate' the Jews, whom he called "the scum of humanity…the rats of the world…prophet killers…pigs and monkeys", and as a result has been barred from conferences in the United States and been refused entry to Canada.
READ ALSO: Muslims To Observe Ramadan Fasting Twice In 2030, 2nd Time in 33 Years
Countdown: Muslims Await Ramadan in 4 days + "And then What?" About Fasting
11 hrs in Jo'burg, 19 hrs in Norway, Odd fasting hours for World Muslims
11 Legitimate Ways For Journalists To Make Extra Money
Al-Sudais has been listed as an example of theological anti-Semitism by the Anti-Defamation League, when he called curses down upon Jews and labeled them "scum of the earth" in his sermons.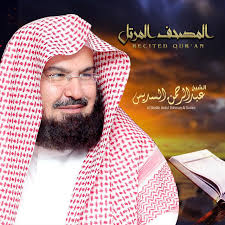 The International Broadcasting Bureau also has reported the antisemitism of Sudais's April 2002 sermon.
In a May 2003 interview with NBC's Tim Russert, the foreign policy adviser to the Saudi crown prince, Adel al-Jubeir, confirmed al-Sudais's statements, agreed that they were "clearly not right," and stated that he was reprimanded, but was still allowed to preach. He also said that "if he [Sudais] had a choice he would retract these words – he would not have said these words."
Al-Sudais has not only attacked Jews, but other non-Muslims, such as Hindus and Christians. John Ware on the BBC program Panorama entitled "A Question of Leadership" from August 21, 2005, cited Al-Sudais referring disparagingly to Christians as "cross-worshippers" and Hindus as "idol worshippers."[9] Ware pointed out the discrepancy between Sudais's sermons to Saudis with his speech to Western audiences.
The Muslim Council of Britain questioned the veracity of quotes given in the interview, calling them "deliberately garbled" and the program as a whole "deeply unfair."[37] The council urged caution, and while condemning any form of anti-semitic remarks, requested verification that these words were indeed spoken by Al-Sudais.[38] After a series of exchanges, the BBC's Panorama editor, Mike Robinson, posted a response to each of the Muslim Council's allegations, accusing them of "unwarranted and wildly inaccurate attacks" and "bad faith allegations."
In August 2009, the Board of Deputies of British Jews protested a visit by Al-Sudais to Britain in which he gave lectures at several mosques and attended an event with Tory MP Tony Baldry. Baldry subsequently defended his decision to work with Al-Sudais, stating that "If I had written a text of what a moderate Muslim would say, his would have been a word-perfect example.
Last line
He has, according to Muslims, spent four decades, "serving Allah at the Two Holy Mosques. We ask Allah to bless his life, to benefit Islam and Muslims through him, and to reward him with the best reward. Aamin." AbdulSalam.Yusuff, a local Imaam in Africa, wrote on his social media page.